Here, current info and photos on the mast and set
Here stood the mast at dismantling



Check out the below videos at dismantling
Now the work starts at the barn
The proud digger

Then the work starts with the foundation.
The hole was 1200x1200x2100

Wood structure in place

Fully threaded 24mm rods


Even got a nice visit by Mats SM7BUA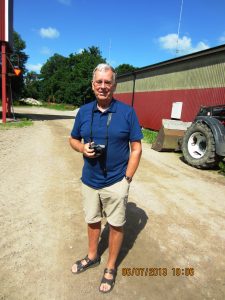 Here comes the hose up inside the barn

Then it was cast and clear 5 cubic


Burn and watered for two weeks

Then it was time to dig into the tower 30 cm deep for the ground


Good thing i had this
Thanks for the loan Christer SM7SKI

13 meters 12 mm copper wire around the base


Connection to the mast legs

Here we see the connection with the ground rods 1.5 meter into the ground 3 pcs.

Painted and ready

 Here follows the job of recunstruction the mats
Then begins the job of getting the top two sections fit together
These sections are equally rough for better stabilisitet of rotor support bearings
It got resolved with 6 hardened plates connecting section two and three.
This is the result

This storage one meter above the rotor saves a lot of sideways

The first section of the way with the tractorloader


Here is the first section in place 

This bolted section two and three together with one
with 9 elements two feet on top
SM7SKI Christer climbs

Christer on his way to the top while
crane truck fetches shortwavebeamen


The beam also soon  in place.


This is the result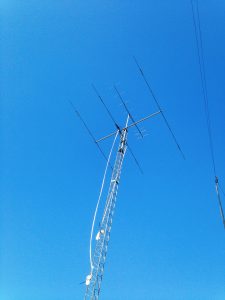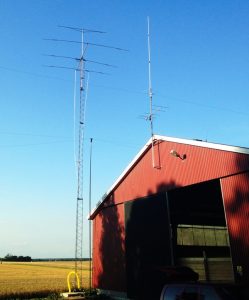 Some video click on the links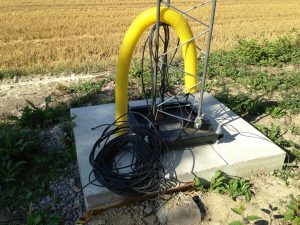 Even inside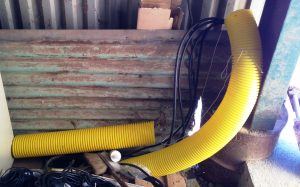 Then also Beamen and Yagin for 2 yards contacted and connected.
Although Windom 160 dipole under SM7SKI Christer's feet in place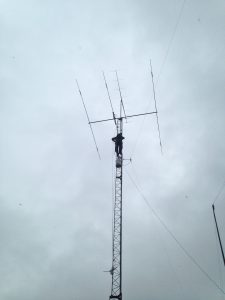 Cables neat and tidy stripping  along the mast.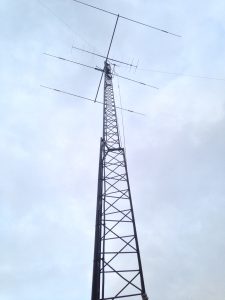 A moderate bend so the rainwater can not enter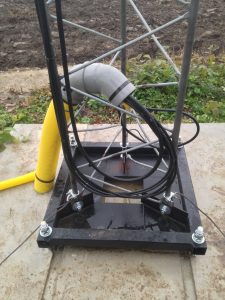 Even hose protectors neat  stripping 
The thinner hose is for 40 meters vertical down in the woods.